[Summer Outdoor Home Guide] How To Create Your Outdoor Oasis
Are you ready to create a soothing outdoor sanctuary to relax, unwind, and gather?  With summer around the corner, a few updates that refresh your yard can provide a well-designed extension of your home – increasing wellness, happiness, and comfort in a natural setting.
Our homes have taken on a whole new dimension in our daily lives. Creating a high-functioning outdoor design to meet the needs of today's ever evolving lifestyle is crucial for your daily comfort, joy, and modern living in a versatile home environment.
Now is a perfect time to get started on the process of designing and implementing beautiful, natural and efficient solutions for your home's outdoor space and create an oasis for how you want to live your life.
At Sheryl Steinberg Interior Design, I create fresh and original design solutions that not only look beautiful, but are functional and tailored to your lifestyle. Whether through my personalized guidance or sourcing a few new items to complete a space – I have the options you need to begin:
 1. Try a Design Starter Consultation [LEARN MORE HERE]. Our consultation is a 90-minute working meeting (in-person or virtual) that offers guidance to define your vision, create a design budget, and guide you on your next steps to proceed with your home's design – helping you to navigate a personalized and focused path to proceed.  It's great way to start the design process and feel confident and joyful in your home again.
 2. Just need some pieces to complete a room – visit our online SHOP [SHOP HERE].   I have gathered uniquely sourced furnishings, accents, and lighting to update your space. These selections have been specially collected for you – relieving you from endless hours of online searching.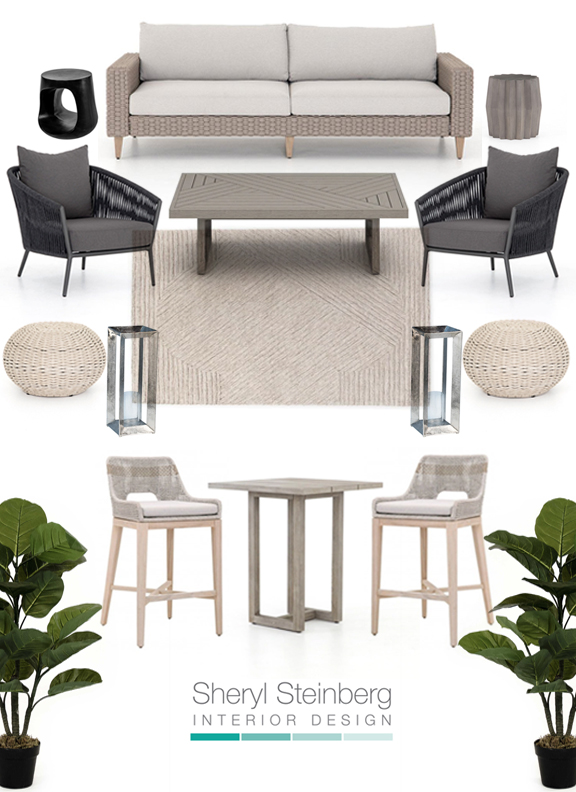 Summer Outdoor Home Guide To Creating Your Outdoor Oasis:
Cushions:
Chairs:
End Tables:
Coffee Tables:
Dining:
Illumination:
Sign up to receive more free home design tips!