5 Kitchen Organizing Tips That Work
Are you ready to reorganize and reclaim your kitchen? A reorganization brings more efficiency, joy and beauty back to your home.  Now more than ever, streamlining your kitchen will help ease your mind, save you time, and enable you to focus on what matters most – your comfort, happiness, increased motivation, enhanced productivity, and decreased stress.
My clients look to me to design a functional, efficient, organized, and sanitary space for meal preparation, food storage, gathering and eating.  The modern home has taken on a whole new dimension in our lives. Kitchens continue to be the heart of the home like never before.  Not only do our daily sustenance, wellness and nutritional practices take place in the kitchen, it now also serves as a video conference center, work and study space, entertainment and gathering zone that demands organization and efficiency to operate for today's lifestyle.
Are you ready to get started on solutions for an organized and functional kitchen – but not sure how to begin?  Try our Design Starter Consultation in person or virtual.   Our consultation is a 90-minute working meeting that offers guidance, design ideas, and helps you define your goals.  It's a great way to simplify the design process to feel happy and inspired in your home again.
Let's get started – I'd like to help you by sharing 5 time-saving design ideas you can implement now that will make your kitchen more efficient, organized, and functional: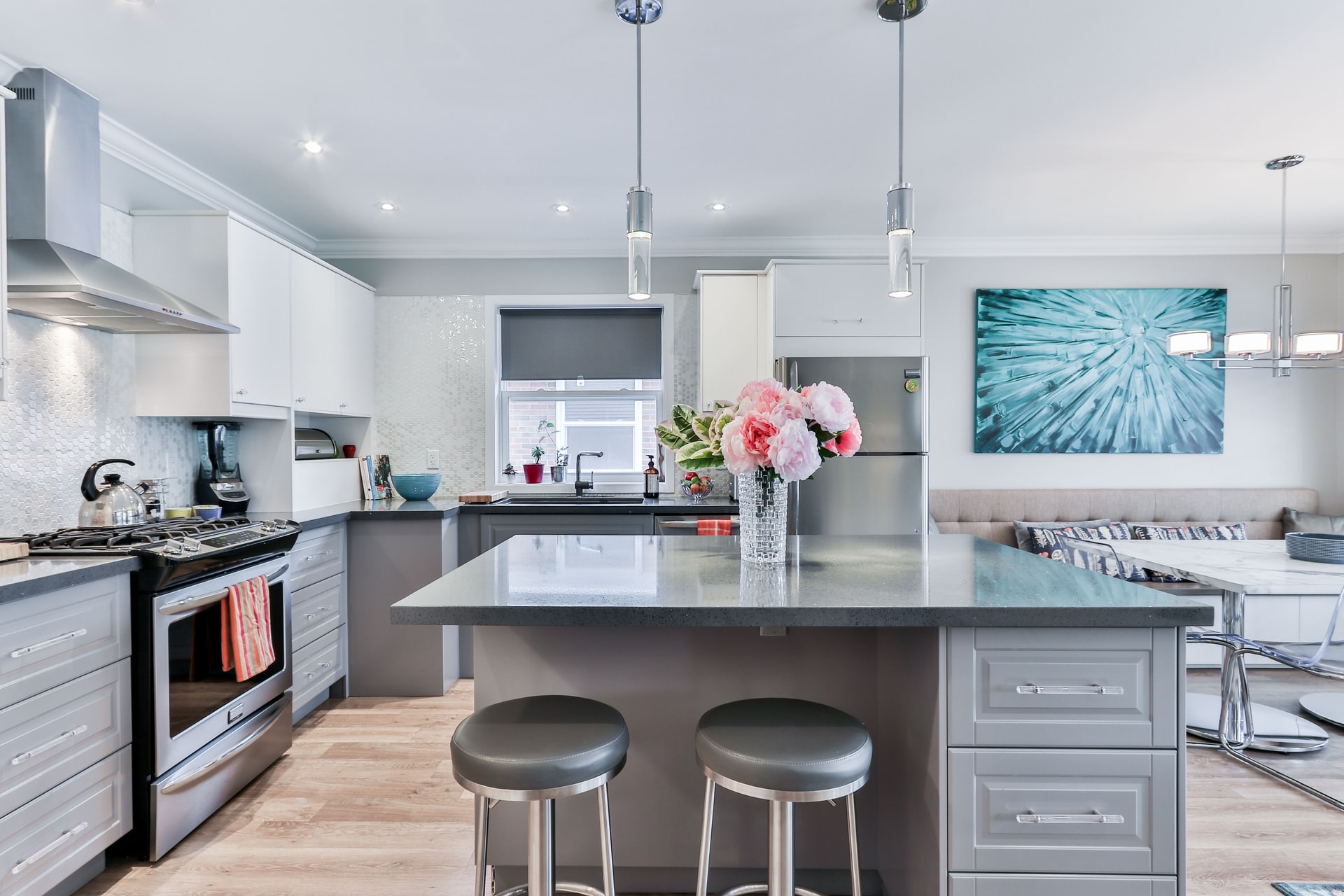 5 Simple Design Tips To Organize Your Kitchen     
Storage:
Streamline storage areas  – Consolidate and simplify storage areas, such as pantries, cabinets and shelves to create space-saving solutions.
Zones:
Establish space zones – Create specific areas for food prep, work, study.
Surfaces:
Hygienic surfaces  – Separate work and study areas from food prep stations to keep food areas clean and sanitary.
Fixtures:
Replace worn fixtures – Change out old cabinet handles, hardware, inefficient and inadequate lighting, and tired appliances for a refreshing and efficient environment.
Create a plan:
Personalized kitchen plan – Engage a professional designer to create a high-performance, and functional kitchen that serves all your needs to elevate your kitchen to multipurpose and multitask as needed, as well as integrate with adjacent rooms.
Sign up to receive more free home design tips!