[VIDEO] Watch How To Design Your Outdoor Retreat With Sub-Zero Wolf Appliances
Are you ready to elevate your summer outdoors – relaxing, grilling, and enjoying cool refreshments?  Watch [HERE] how we create a stunning outdoor sanctuary – right outside your own home.  Join us live at the Sub-Zero Wolf Mid-Atlantic outdoor showroom [HERE] as we share innovative outdoor kitchen design solutions, and demonstrate cooking with high-performance, multi-functional appliances that optimize and transform your outdoor are into a beautiful and efficient extension of your home's usable space – to relax, entertain, and enjoy for years to come.
Outdoor kitchens demand appropriate superb-quality appliances, require professional space planning and installation, include exterior-grade durable fixtures, and incorporate proper surfaces for optimal long-term use [WATCH VIDEO HERE].
At Sheryl Steinberg Interior Design, I provide solutions for your remodeling needs, develop a budget, and provide a detailed scope of work that fits your budget and design vision.  My design process is streamlined and structured to efficiently attain your design goals – resulting in fresh and original design solutions that not only look beautiful, but are functional and tailored to your lifestyle.
Not sure how to begin designing your outdoor kitchen and entertainment space?  Try a 90-minute Design Starter Consultation – virtual or in-person [LEARN MORE HERE].  Our Consultation is a 90-minute working meeting that offers guidance to define your vision, create a design budget, and guide you on your next steps to proceed with your home's design – helping you navigate a personalized and focused path to proceed.  It's a great way to start the design and remodeling process – and feel more inspired in your home.
Here are some of my outdoor design ideas to get you started: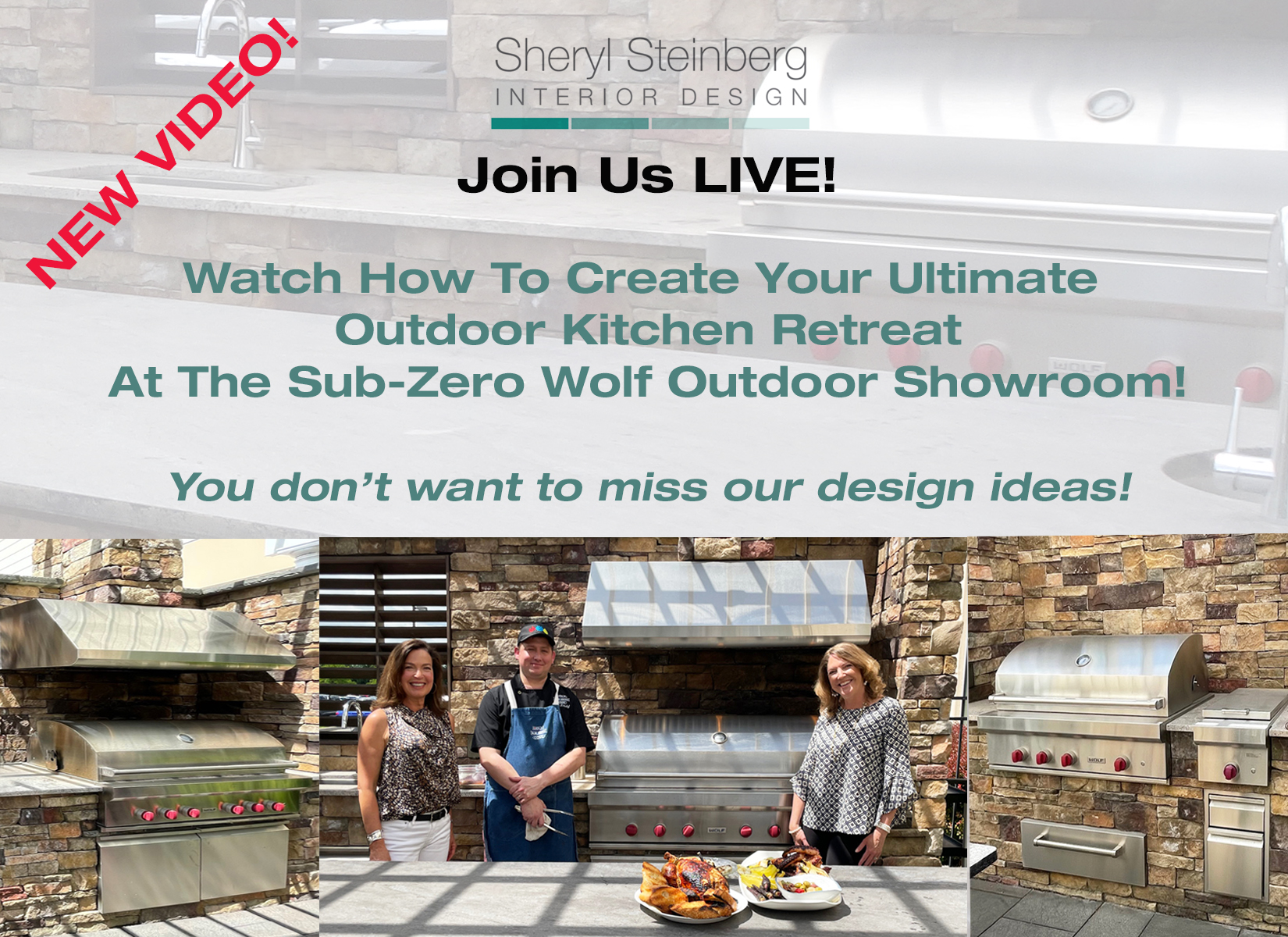 Enhance your home with 8 design ideas for creating your outdoor retreat!   
Customization:
Customize Your Outdoor Kitchen – Create areas for food prep, cooking, clean up, and storage.  It can be a simple as free-standing modular appliances, or a more permanent custom area with built-in appliances and storage for all seasons.  Enhance your space to fit your needs and expand your home's usable space.
Amenities:
Add Amenities – Gather and enjoy cool refreshments and snacks close at hand with outdoor refrigeration, an ice maker, or complete wet bar.
Gathering areas:
Design Gathering and Dining Areas – Enjoy dining al fresco!  Revive your tired outdoor seating and dining areas with quality comfortable furnishings specifically made to withstand the outdoor elements.  Choose modern materials and surfaces that are durable and long-lasting.  Change up the color scheme, add texture, mix materials for vibrancy.
Lighting:
Illuminate Your Space – Add layered lighting for tasks, ambiance, safety, and decoration.
Special Features:
Incorporate Special Features– Add a calming water feature for a soothing retreat.  Gather around and warm up cool evenings with a fire pit.
Plants:
Add Container Plantings – Include new modern planters for height, color and sculptural elements to grow edibles, greenery, and flowers.
Decor:
Include Decor – Add a pop of pattern and color with weather-friendly accent pillows, rugs, candles, string lights, and throw blankets.
Curb Appeal:
Enhance Curb Appeal – Freshen up your exterior with new plantings, hardscape, and lighting.
Sign up to receive more free home design tips!