[VIDEO] 5 Ways To Use Cambria Quartz In Your Home
Join us live at the Cambria Quartz warehouse [HERE] where we show you why choosing a quartz surface for your home is a unique and stunning material, as well as a functional and efficient stone surface that will stand up to daily use with minimal maintenance. We share why manufactured quartz is a top design recommendation for your kitchen, bathroom, walls, and even custom furniture.  Watch the video [HERE] and join us as we share insight into the maintenance, durability, hygienics, and aesthetics for manufactured quartz when remodeling your home.
BONUS: Enter [HERE] for one lucky winner to receive a FREE One-Hour Virtual Design Consultation with me to get started on your next home remodeling project, and a fabulous gift from Cambria. Entry deadline is December 20, 2021.
Don't wait – I'd like to help you revitalize your living environment by sharing valuable design information you can consider right now that will make your home more joyful, beautiful, and comforting.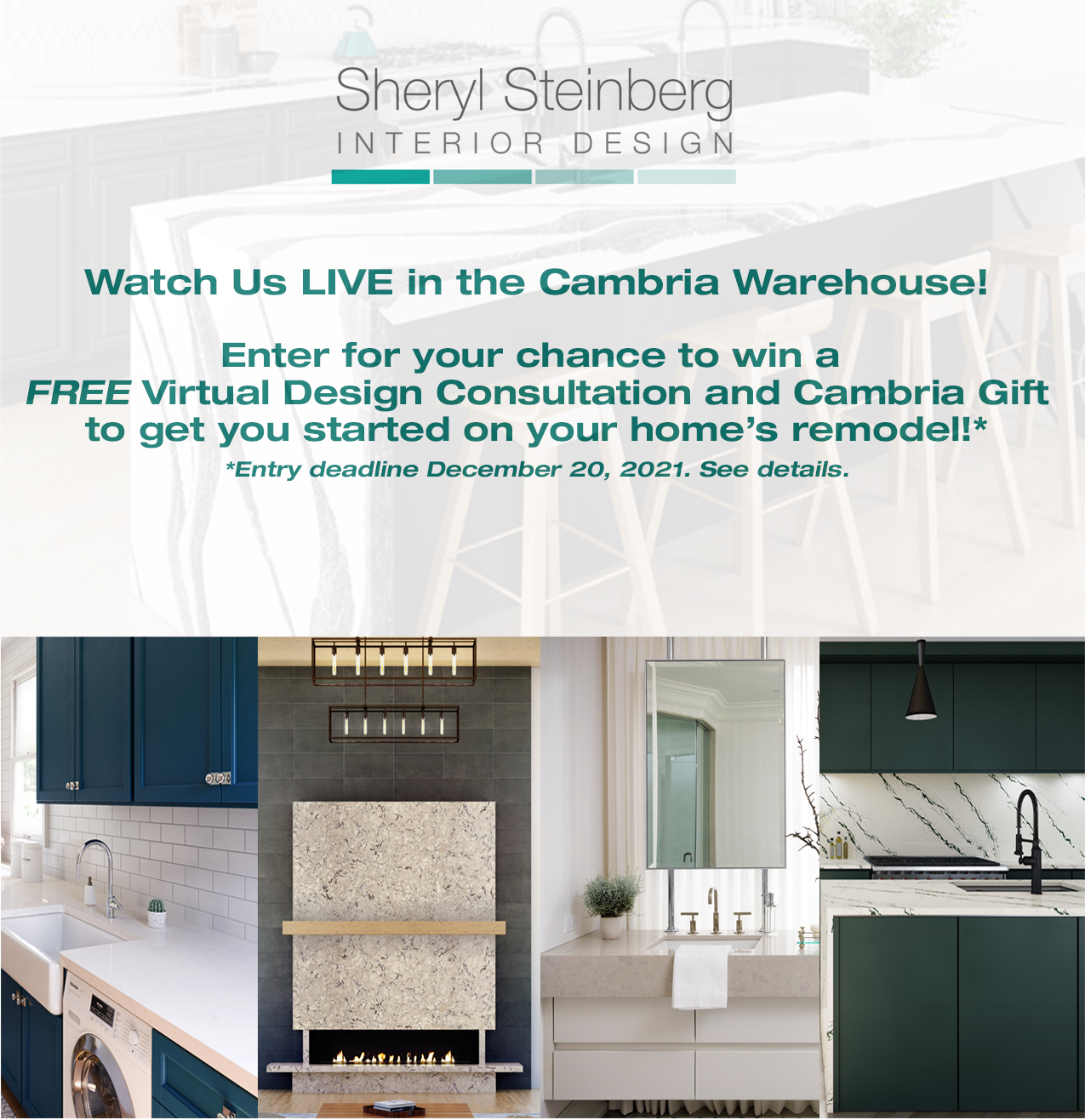 Update your home with my Cambria Quartz surface ideas to inspire you.   
Bathroom:
Walls and Vanity – Install Cambria quartz surfaces on your walls and vanity tops for a continuous modern design, ease of maintenance, and hygienic properties.  The many design and color options will be sure to fit any style.
Furnishings:
Custom Furniture – Design unique custom tables, desks and bookcases with local furniture makers. The design choices are numerous and will coordinate with other furnishings and fabrics in the room. Cambria is made in the USA, so avoid lengthy furniture delays.
Kitchen:
Backsplash and Shelving – Enhance your kitchen with a highly durable and stunning backsplash and shelving for a sleek and gorgeous focal point.  A multitude of design options will coordinate beautifully with your cabinetry, appliances, and surfaces.
Bar:
Entertainment Bar – Create a modern, stylish bar area to entertain and enjoy – incorporating upscale surfaces for the wow-factor.
Fireplace:
Mantel and Surround – Modernize your fireplace surround and mantel with a quartz design to highlight your space in a streamlined design that compliments your furnishings and surfaces to create a stunning place to gather.
Sign up to receive more free home design tips!