[VIDEO] 5 Ways To Design Your Kitchen For Everyday Living With Sub-Zero Wolf
Are you ready to bring more efficiency, functionality, and beauty to your home?  Join us LIVE  [WATCH VIDEO HERE]  in the Sub-Zero Wolf Mid-Atlantic Showroom as we show you the latest high-performance appliances and design solutions to optimize your kitchen, serve your daily needs and transform your home – no matter the size of your space.
Kitchens have taken on a whole new dimension and focus in our multifaceted lives.    Our daily sustenance, wellness, and nutritional practices take place in the kitchen, as well serving as a work, gathering, and social space for multiple generations.   Kitchens demand high-quality and efficient appliances, durable fixtures, and professional space planning to optimally operate for today's integrated lifestyle [WATCH VIDEO HERE].
We work with you to provide solutions for your kitchen's remodeling needs, develop a budget, and provide a detailed scope of work that fits your budget and design vision. Our design process is streamlined and smooth to attain your design vision.
Not sure how to begin your remodel?  Try a 90-minute Design Starter Consultation – virtual or in-person [FIND OUT MORE HERE].  It's a great way to start the design and remodeling process – and lead you to feel more inspired in your home.
I'd like to help you revitalize your home by sharing inspiring kitchen design ideas you can implement right now that will make your home more comforting, functional, and beautiful.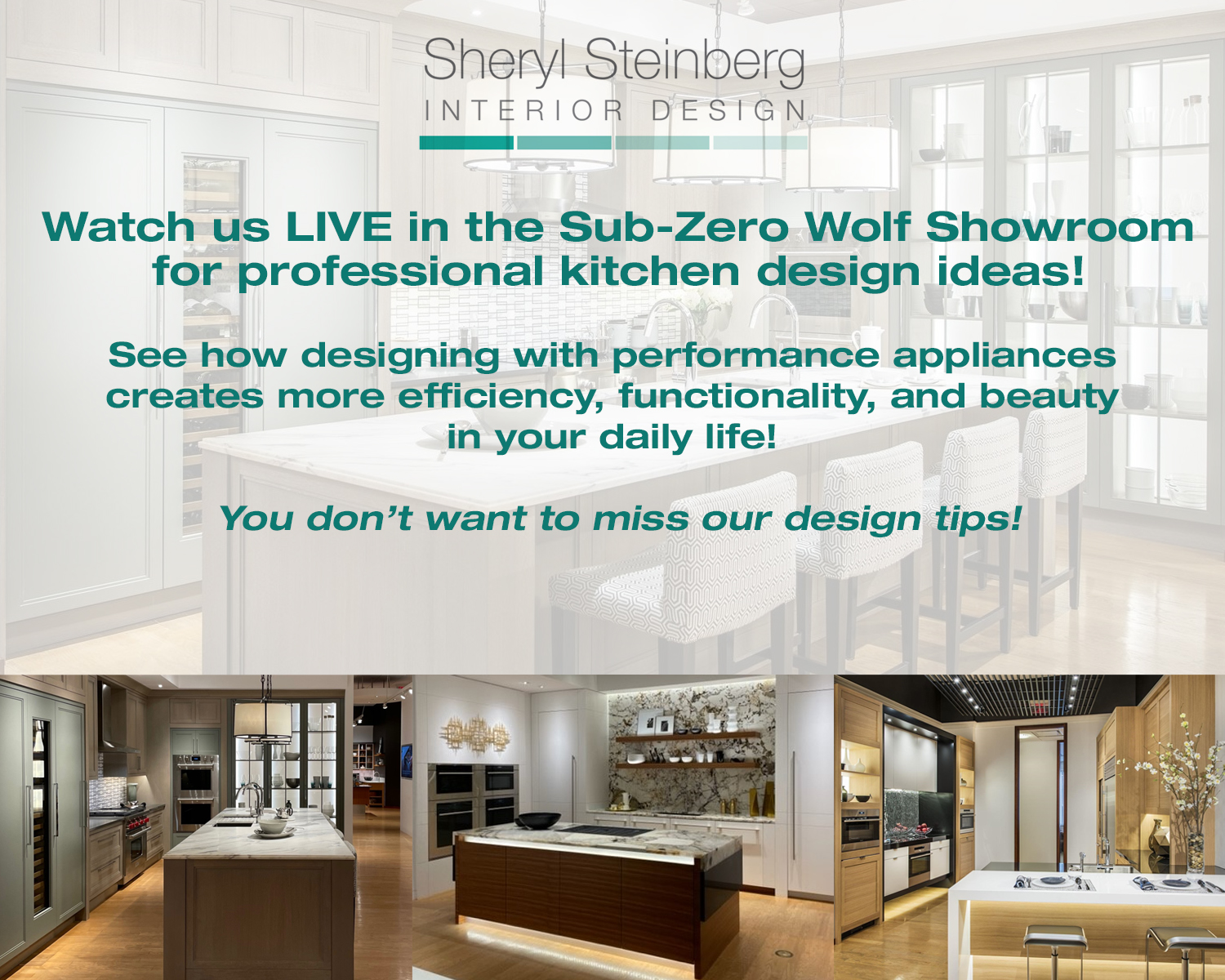 Update your home with my kitchen and appliance design ideas to inspire you.   
Appliances:
Replace Outdated Appliances – Replace poor-functioning and worn appliances with high-performance quality appliances – to save time, energy, and increased cost-effectiveness and safety.  New appliances integrate the latest technology, design, and safety protocols to support our modern lifestyles.
Space Plan:
Personalize Your Floor Plan – Work with a professional designer to create a high-performance, functional kitchen that serves all your needs to multipurpose the space, while still maintaining separation of food areas from other uses.
Adjacent Rooms:
Integrate The Design With Adjacent Rooms – Segue the kitchen design with surrounding rooms for a seamless, welcoming, and continuous transition between spaces.
Cooking:
Healthy Cooking And Food Prep Stations – Create sanitary areas reserved specifically for food preparation, cooking, food, storage, and eating.
Lighting:
Include A Lighting Plan – Integrate layered light sources that specifically target your daily needs from general overhead lighting, to undercabinet task lighting for meal prep, to integrated safety lighting, to island pendants for eating, working, and gathering.
Sign up to receive more free home design tips!