Reclaim Your Organized Home Office
Chances are, you're ready to have an organized work area that is more efficient to maximize your productivity. You may now be realizing just how essential it is to organize your home office space. The adjustment to working from home has taken a lot of your energy to maintain your motivation and enthusiasm. By streamlining your office space, you will ease your mind and enable yourself to focus on what matters most – continued success, productivity, and efficiency in your job. I hear you – and I know you are done spending extra time each day searching for files, supplies and materials that are not where they should be. Organizing your home office will result with an inspirational space to do your best work.
I'm right there with you – I have a home office and studio.  I know what it takes to create a home office space that functions at its best, while maintaining the rest of your home as it should be – your personal refuge.
Your home is your personal space and your workspace is now an integral part of that. In my professional design practice, I create solutions for clients by designing spaces that improve their living and working environments – resulting in functional and inspiring interiors that help them succeed and bring joy to their lives.
Don't wait any longer – I'd like to help you by sharing some time-saving tips you can implement right now that will make your workspace at home more organized, efficient, and productive.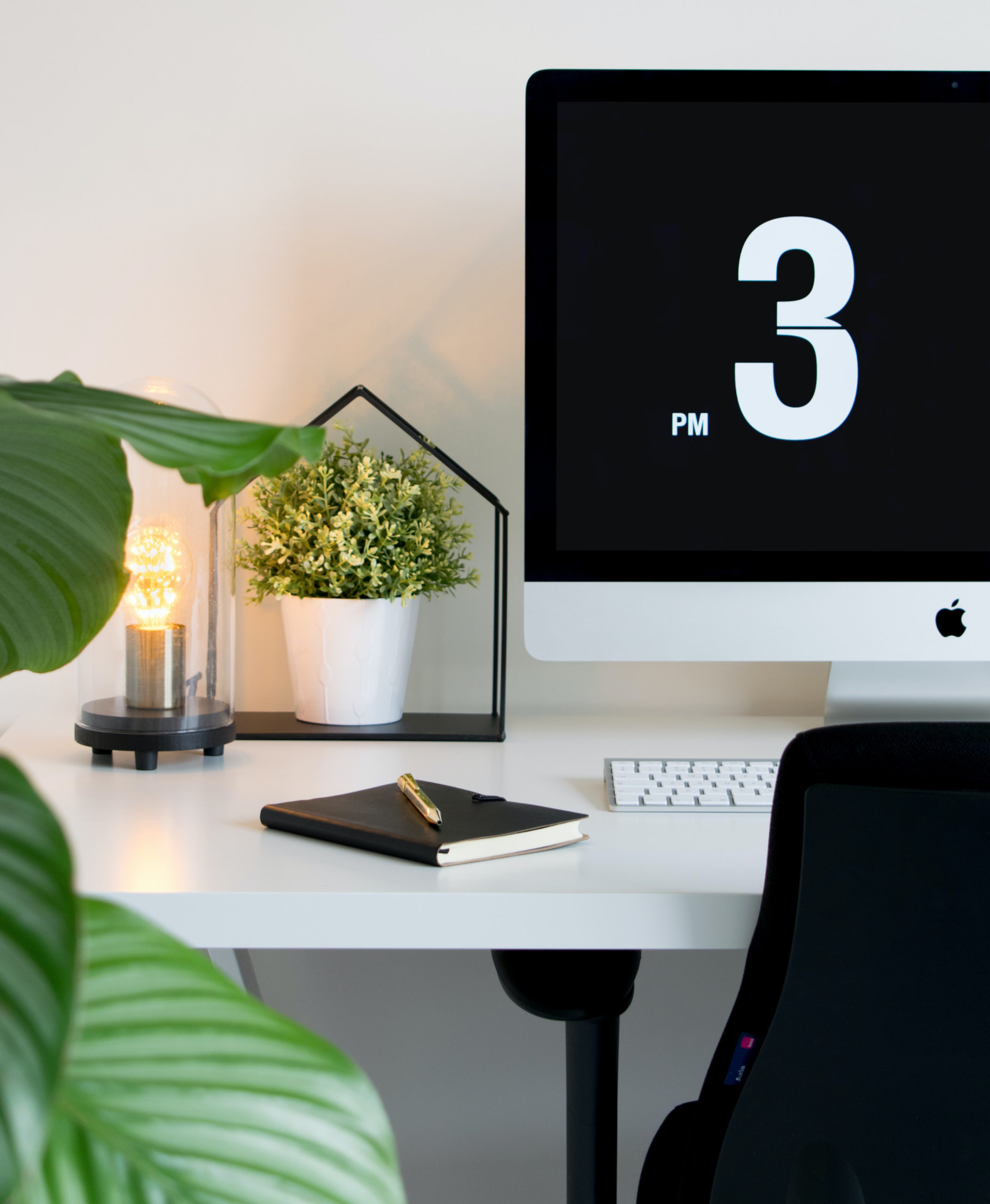 Organize your work-from-home environment to stay productive and succeed
Storage Systems:
Incorporate modular storage systems – Incorporate a mix of file and storage cabinets, bookcases, bins with multiple compartments for functional and organized storage.
Merge and Purge:
Eliminate and consolidate – Throw away what you don't need and reduce duplicates of what you do use to save space and reduce clutter.
Labeling:
Label with descriptions – Print descriptions to adhere to your shelves, cabinet drawers, bins for time-saving access of items and ease of clean up.
Wall Space:
Use vertical space – Utilize wall space for shelving and organization systems to free up space on your desk.
Multiple Use Furnishings:
Furnishings and accessories that multi-task – Use desks, lights and cabinets with built in outlets that reduce cord entanglement and provide easy access.
Filing System:
Create a file system for both paper and electronic files – File regularly so paper and electronic documents do not pile up. Use folders, dividers, hanging files to organize by subject and project.
Tidy Up:
Clean up at the end of each day – Prepare for an efficient start for the next morning.
Sign up to receive more free home design tips!