[Home Style Guide] 9 Ways To Revive Your Home Inside And Out
There is something to be said about bringing the outside in, and the inside out.  Our homes are built to adapt to their natural environment – as an extension of our indoor living space.  Blurring the lines between inside and out seamlessly expands your home's usable space – creating an uninterrupted streamlined connection and consistent style that brings you ease, enjoyment, and inspiration. 
My clients look to me for fresh design solutions that bring ideas to life, relieve their stress, and leave them feeling happy and confident in their home again. 
Now is a perfect time to get started on the process of designing and implementing beautiful, stylish, and functional solutions for your home – creating a sanctuary for how you want to live your life.
In my award-winning design practice, I create fresh and original design solutions that not only look beautiful, but are functional and tailored to your lifestyle.  My clients look to me for modern, high-functioning design solutions that bring ideas to life, relieve their stress, and leave them feeling happy and confident in their home again.
"Sheryl is a great listener and full of wonderful ideas.  We were amazed at the transformation.  We couldn't have asked for a better partner to accomplish our goals." – Janice H., Glen Echo, MD
Whether through my personalized guidance or sourcing a few new items to complete a space – I have the options you need to begin:
 1. Try a Design Starter Consultation [LEARN MORE HERE]. Our consultation is a 90-minute working meeting (in-person or virtual) that offers guidance to define your vision, create a design budget, and guide you on your next steps to proceed with your home's design – helping you to navigate a personalized and focused path to proceed.  It's great way to start the design process and feel confident and joyful in your home again.
 2. Just need some pieces to complete a room – visit our online SHOP [SHOP HERE].   I have gathered uniquely sourced furnishings, accents, and lighting to update your space. These selections have been specially collected for you – relieving you from endless hours of online searching.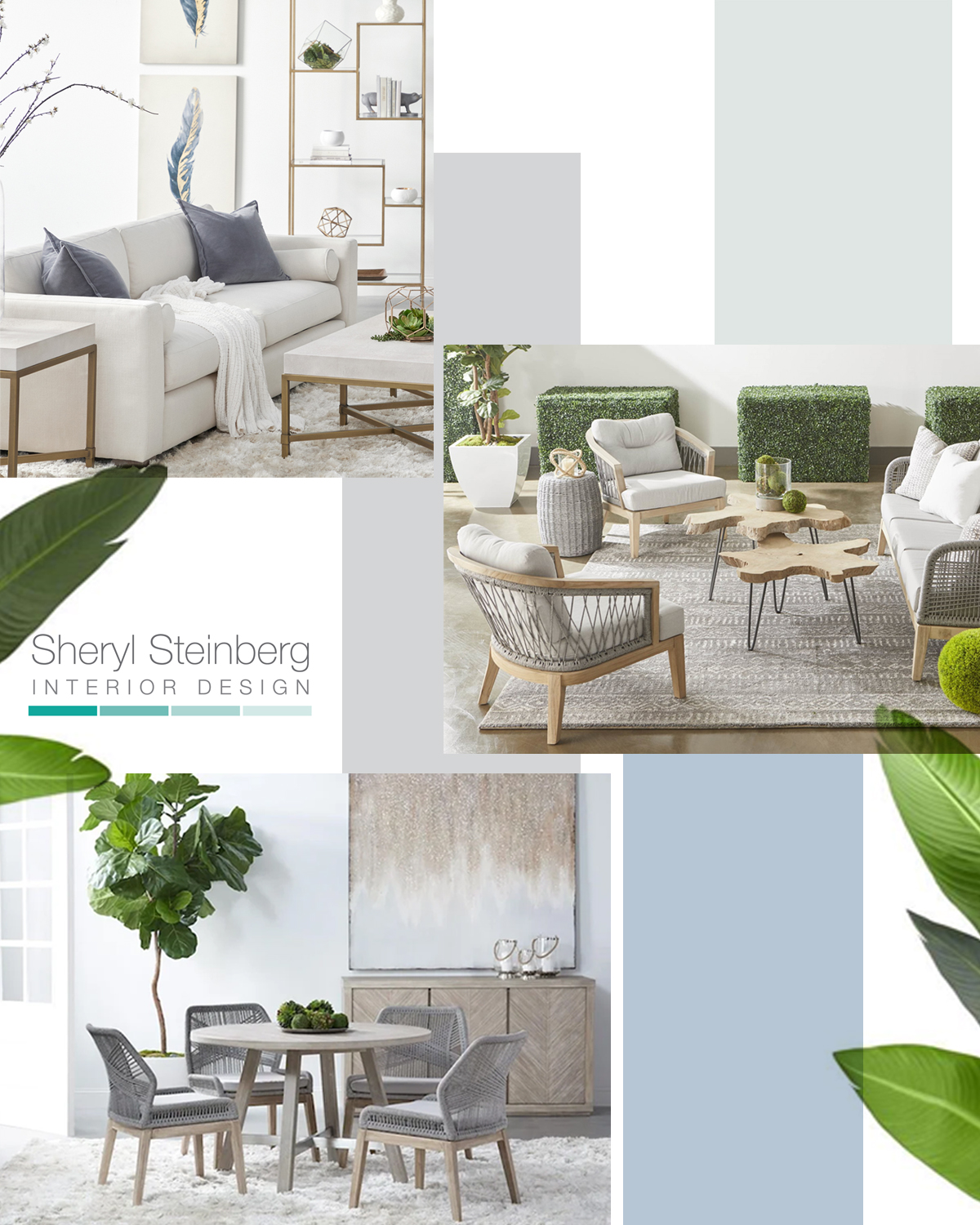 My Indoor/Outdoor Home Style Guide To Get You Started:
Colors:
Create a color palette – Coordinate exterior and interior colors, materials, surfaces, and style to create continuity and consistency throughout.
Entry:
Design a welcoming entry – Integrate a seamless entry coordinating colors, materials, and surfaces to create a continuous flow from the inside and out.
Furnishings:
Define a furnishing style – Let your design vision shine and personal style shine by defining a cohesive look for your home's interior and exterior furnishings – creating continuity throughout.  An intentional palette of color, texture, and materials will create a refreshed continuous extension of your home inside and out [SHOP].
Accessories:
Update accessories – Complement your spaces with some modern décor and accessories for some uplifting color and interest reflective of your style [SHOP].
Tables:
Unique sculptural tables – Upscale your style by incorporating sophisticated coffee tables and end tables in various shapes and materials to anchor your gathering zones [SHOP].
Lighting:
Incorporate statement lighting – Replace dated lighting with modern shapes, styles, materials, and energy-efficient bulbs that brighten and highlight your home from the inside out [SHOP].
Seating:
Refresh your outdoor cushions – Elevate your seating with modern, weather-resistant pillows and cushions that look great year-round to add a pop of color, comfort, texture and pattern to revive your lounging [SHOP].
Plants:
Include botanicals – Choose some plants from the exterior that can grow in containers indoors to bring the outdoors in.  Try some faux plants for visual color and style [SHOP].
Illumination:
Illuminate evenings with lanterns and candles – Brighten up the evenings with a mix of lanterns, candles and votives of various heights and materials for relaxing ambiance and visual interest [SHOP].
Sign up to receive more free home design tips!