Easy Ways To Refresh And Organize Your Home Office
By now you have adjusted to your temporary workspace at home, but after a year is it still energizing and motivating you for your success? Chances are your temporary home office is now more permanent and in need of a refresh and reorganization for longer-term efficiency and increased productivity.  Streamlining and organizing your office area will help ease your mind and enable you to focus on what matters most – continued success, increased motivation and higher effectiveness in your job.
It's not easy. Afterall, workspaces were designed by professional interior designers to enhance productivity and efficiency.  On the other hand, you've set up your house to be a home – a source of comfort and joy – not to be your workplace.  If over the last year you have experienced distractions, lack of privacy, disorganization, or feel discomfort – you're not alone.  Your home is not serving you as well as it could in this work-from-home life.
As a professionally trained interior designer, I'm experienced in making environments work better and inspire the people who use them.  I know what it takes to create a workspace that functions well.
In my professional design practice, I create solutions for clients by designing spaces that improve their living and working environments resulting in functional and inspiring interiors.
Don't wait any longer – I'd like to help you by sharing some time-saving tips you can implement right now that will make your workspace at home more organized, efficient, and productive.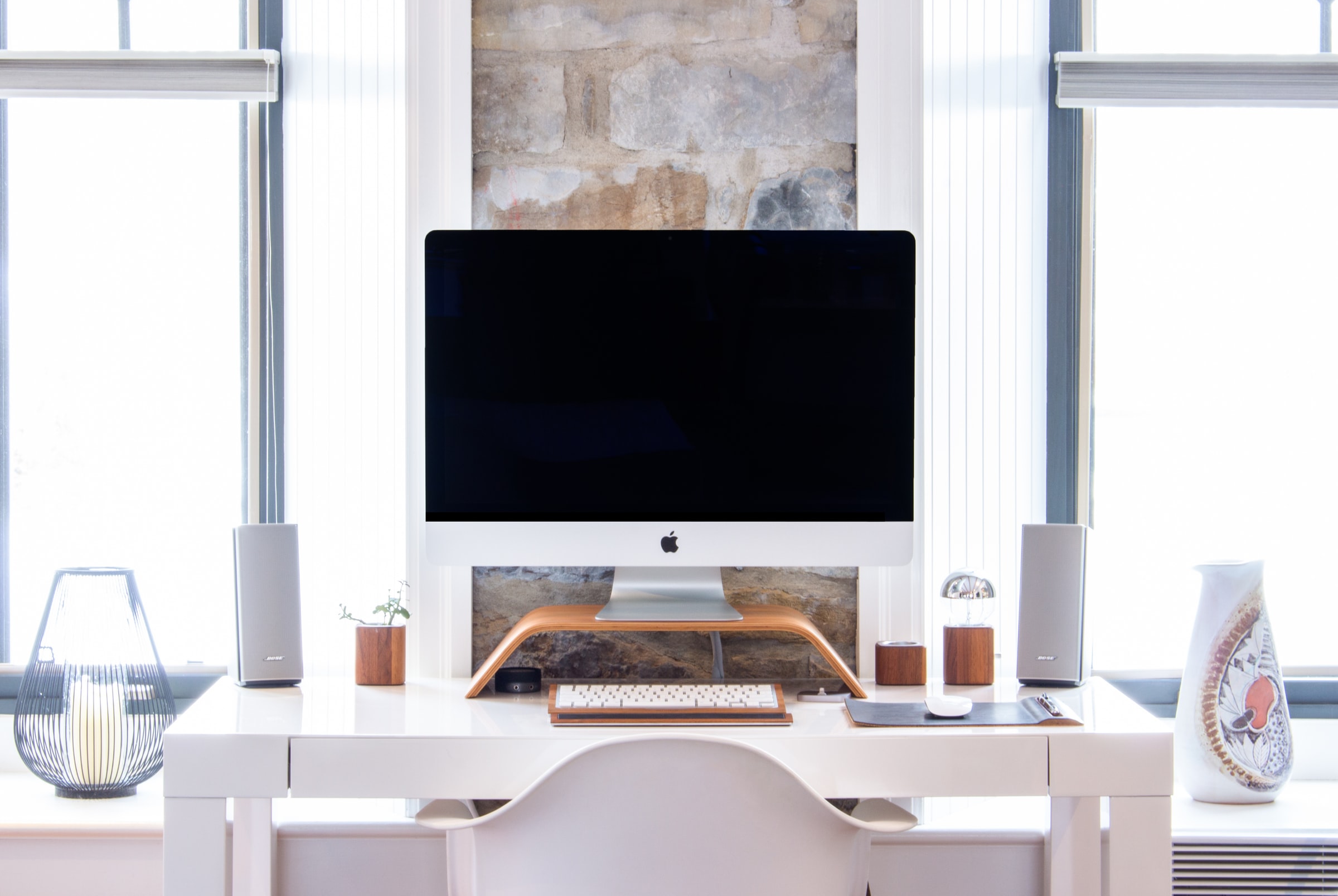 Refresh and Reorganize Your Home Office To Stay Productive And Succeed:
Style:
Incorporate decorative objects  – Make your space feel like yours.  Add a vase with greenery, a framed photo, artwork, a scented candle – whatever makes you happy.  Choose colors that don't distract and help you focus.
Storage Systems:
Incorporate modular storage systems  – Incorporate a mix of file and storage cabinets, bookcases, bins with multiple compartments for functional and organized storage.
Labeling:
Label storage  – Print descriptions to adhere to your shelves, cabinet drawers, bins for time-saving access of items and ease of clean up.
Wall Space:
Use vertical space  – Utilize wall space for inspiring décor and organization systems to free up space on your desk.
Multiple Use Accessories:
Furnishing and acessories that multi-task  – Use desks, lights and cabinets with built in outlets that reduce cord entanglement.
Define Your Space:
Choose the right area to work in – Define a work zone away from the common areas for the least amount of distractions.
Furnishings:
Set up a sturdy desk, quality ergonomic chair and targeted task lighting  – A must for maximum comfort while you work and help avoid fatigue and distress.
Organization and Storage:
Organize your paperwork, supplies and equipment – Keep desktop accessories simple and easy to access. Declutter and organize your workspace and the area around you.  Add shelving and storage solutions.
Sign up to receive more free home design tips!