Easy Ways To Create An Outdoor Oasis
Are you ready to create a soothing outdoor sanctuary to relax, unwind, and rejuvenate?   No doubt your home has been working overtime all winter.  With spring here, a few updates to refresh your yard can make a big impact by expanding your living space to the outdoors, and increasing wellness, happiness, and comfort in a natural environment.
Our homes have taken on a whole new dimension in our daily lives.  Now more than ever, creating a high-functioning outdoor design to meet the needs of today's ever evolving lifestyle is crucial for your daily comfort and joy, and modern living in a versatile home environment.
Now is a perfect time to get started on the process of designing and implementing beautiful, natural and efficient solutions for your home's outdoor space and create an oasis for how you want to live your life.
Not sure where to begin? Try a 90-minute Design Starter Consultation [FIND OUT MORE HERE].  It's great way to start the process towards creating your outdoor space.
I am available to assist and guide you to incorporate furnishings, fixtures and high-performance materials that implement modern design solutions. We design outdoor spaces not only for comfort, functionality and beauty, but for wellness, safety, and adaptability.
Don't wait any longer – I'd like to help you revitalize your living environment by sharing simple design ideas you can implement right now that will make your home more joyful, relaxing, beautiful and comforting.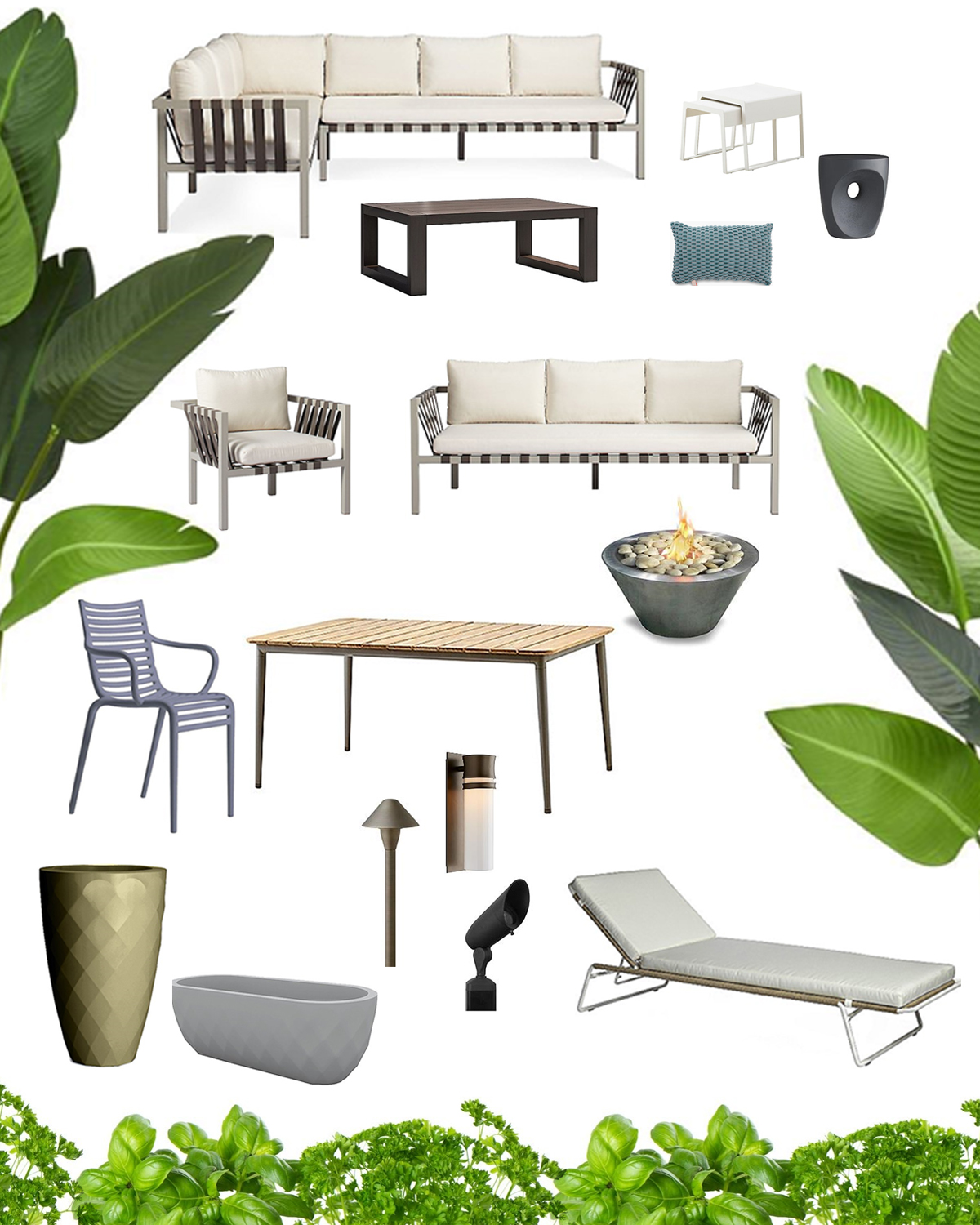 Refresh Your Outdoor Living Space
Furnishings:
Replace worn furnishings  – Refresh your outdoor space with new long-lasting, durable fabrics and furnishings made to withstand the outdoor elements.
Outdoor Bar:
Add a bar  – Create an oudoor bar and snack area for gathering and enjoying cool refreshments.
Water Feature:
Incorporate a water feature  – Add a calming water feature for a soothing retreat to unwind.
Decor:
Include fresh decor  – Add a pop of pattern and color with weather-friendly accent pillows, rugs, candles, string lights, and container plants.
Planters:
Add container plantings  – Include new modern planters for color, scale and sculptural elements.
Curb Appeal:
Enhance curb appeal – Freshen up your exterior with new plantings, hardscape, and lighting.
Sign up to receive more free home design tips!