Choosing Paint Colors For Your Home's Refresh
Whether you want your home to be calm and serene, or energetic and vibrant – the paint colors you choose makes a huge impact.  Changing your paint colors can completely transform your home's style and create an exciting, joyful space to live, work, and entertain.
Selecting the right color scheme and appropriate type of paint can be overwhelming and time consuming with endless options. Designers are trained and experienced with the nuances of color, undertones, paint types, and paint finishes.
Here at Sheryl Steinberg Interior Design – I have the professional expertise and experience to provide you a complete paint color palette to create the ambiance and continuity you envision throughout your home.
Not sure how to begin? Try our Design Starter Consultation in person or virtual.  Our consultation is a 90-minute working meeting that offers guidance to define your paint selection goals – and leads you to feel more inspired in your home.
I'd like to help you revitalize your home by sharing some design ideas you can implement right now that will make your space more joyful, beautiful, and comforting.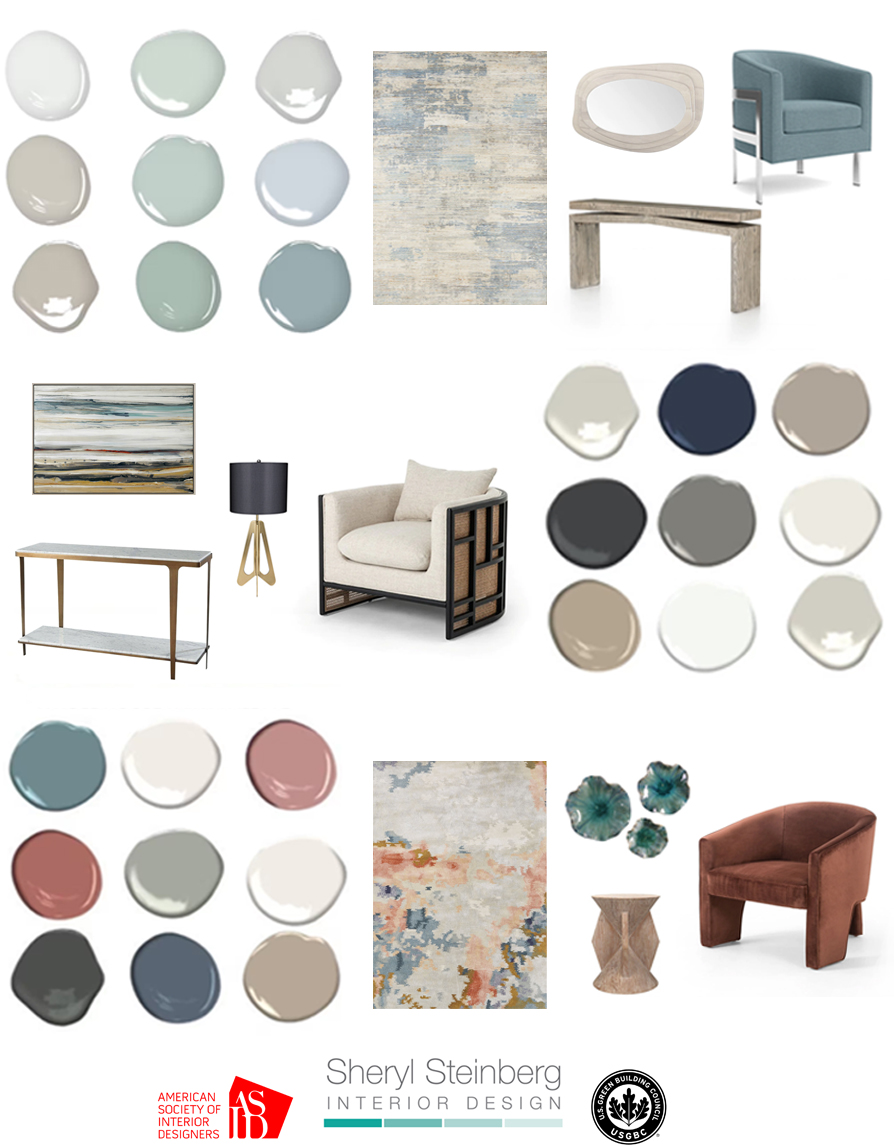 Here are my Paint Color Tips:     
Set The Atmosphere:
Create an ambiance with color – Cool colors like grays, blues, and greens are soothing for relaxation.  For example, in a bedroom or bathroom.  Warm colors like yellows, beiges, and oranges are more energetic.  For example, in an entertainment area or athletic space.
Focal Wall:
Design an accent wall – A bold pop of an accent color on one wall will create a vibrant focal point in a room.  Consider the fireplace wall, a nook, or a bed wall.
Consider Furnishings:
Try colors already in the room – There are several routes you can take.  If your furnishings are light, try a darker color on the walls and vice versa.  Pick up a less prominent color, for example, from a patterned fabric or rug.  Try matching an accessory or a color from artwork in the space that inspires you.
Low VOC Paints:
Look at paint formulations – Consider paints that have low or no Volatile Organic Compounds (VOCs) for a healthier indoor air environment.  These paints have less odor and off gassing.
Sign up to receive more free home design tips!