5 Ways to Refresh and Renew Your Outdoor Décor
Does your outdoor décor look as fresh and stylish as it used to?  Do you need some uplifting modern accents to feel renewed and inspired while relaxing and unwinding outside?   Chances are, you know more about your home and how you use it than you ever imagined.  It's a great time to fix the things – big or small – that aren't working for you and upgrade the pieces that have seen better days, creating a well-designed extension of your home right outside your door that you love.
No doubt some new modern décor and accent pieces can make a big impact to your outdoor living space – increasing happiness, wellness and comfort in a natural environment, inviting you to slow down and settle in.
Now is a perfect time to get started on the process of designing and implementing beautiful, functional and efficient solutions for updating your home's outdoor space as an extension of your indoor space.  More than ever, creating a modern outdoor design to meet the needs of today's ever evolving lifestyle is crucial for your daily comfort, joy, and modern living in a versatile home environment.
Not sure where to begin? Try a 90-minute Design Starter Consultation [FIND OUT MORE HERE].  It's great way to start the process towards creating your outdoor space.  I am available to assist and guide you to incorporate quality décor and accent pieces that implement innovative design solutions.
Don't wait any longer – I'd like to help you revitalize your outdoor living environment by sharing simple design ideas you can implement right now that will make your home more joyful, relaxing, beautiful and comforting.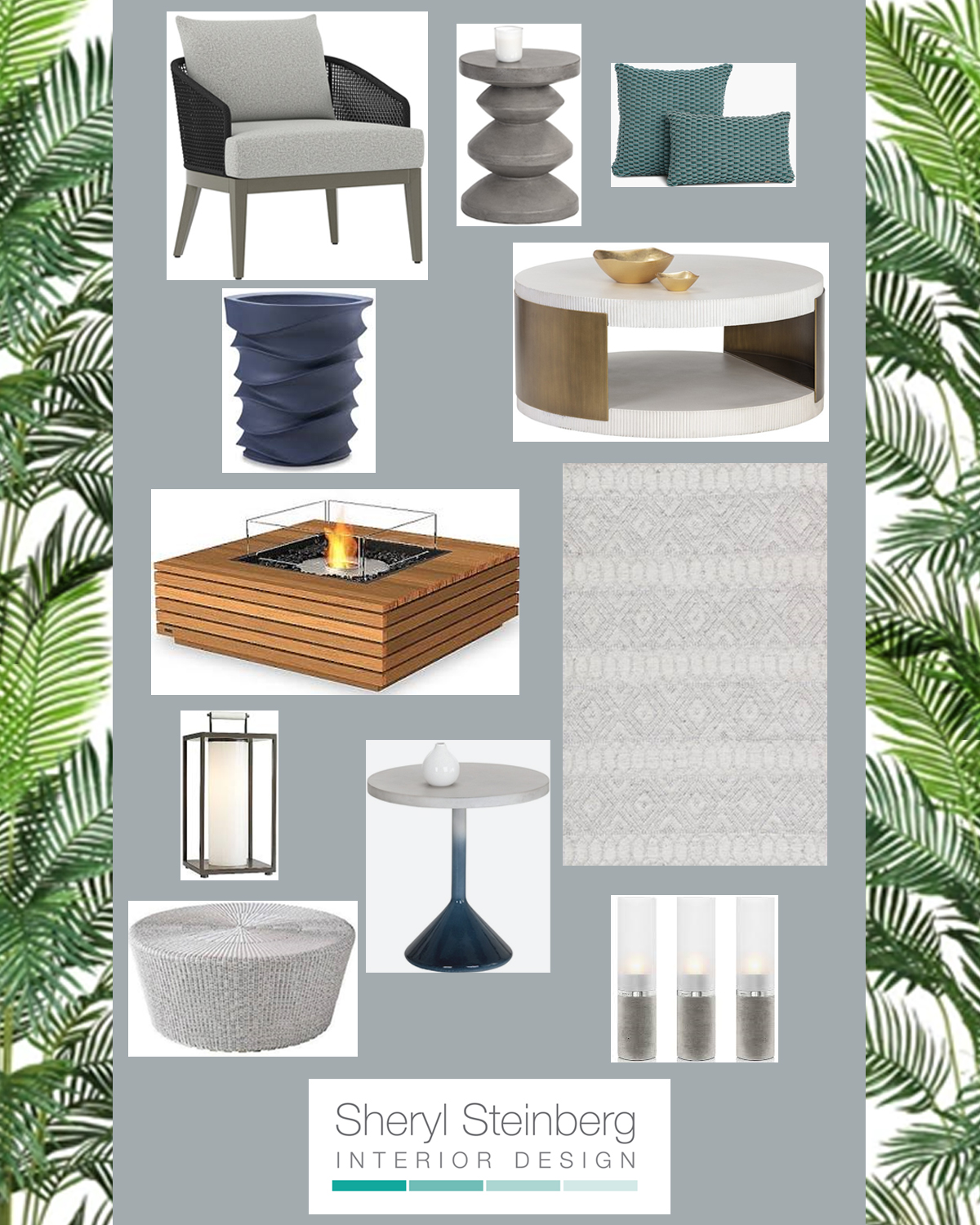 Invigorate and Upgrade Your Outdoor Décor – Be Inspired With These Ideas    
Rugs:
Include outdoor rugs  – Add a spark of style to your space and anchor your seating and dining areas with patterned, textured outdoor rugs in modern, long-lasting, durable fabrics made to withstand the outdoor elements.
Ottomans:
Add fun ottomans – All-weather ottomans are versatile accent pieces that can multi-function as a table or additional seating, while adding a mix of materials and texture to your space.
Containers:
Sculptural containers  – Containers and planters that have modern geometric shapes, colors and textures can be used for plantings or even storage.
Firepit:
Gather around a firepit – Warm up cool evenings around the glow of a cozy firepit.
Curb Appeal:
Enhance curb appeal  – Upscale your exterior with refreshed hardscape, new exterior paint, replace worn surfaces, fresh modern shrubs, install LED and safety lighting, and create an inviting entry into your home.
Sign up to receive more free home design tips!