[VIDEO] Let's Create Your Outdoor Oasis
Are you ready for the outdoors – relaxing, grilling, and enjoying some refreshments?  Watch our video HERE on how you can create a soothing outdoor sanctuary to unwind and rejuvenate – right outside your own home.  Join us live in the Sub-Zero Wolf showroom as we share some ideas for creating beautiful, efficient, and exciting design solutions for expanding your home's usable sapce into the outdoors.
With summer around the corner, now is the perfect time to get started on creating a functional outdoor oasis to enjoy year around, bringing you joy and fun!
Not sure where to begin? Try a one-hour virtual design consultation.  It's great way to start the process towards creating your outdoor space.
I am available to assist and guide you to incorporate furnishings, fixtures and high-performance materials that implement modern oudoor design solutions. We design outdoor spaces not only for comfort, functionality and beauty, but for wellness, safety, and adaptability.
Don't wait any longer – I'd like to help you revitalize your outdoor living environment by sharing simple design ideas you can implement right now that will make your home more joyful, relaxing, beautiful and comforting.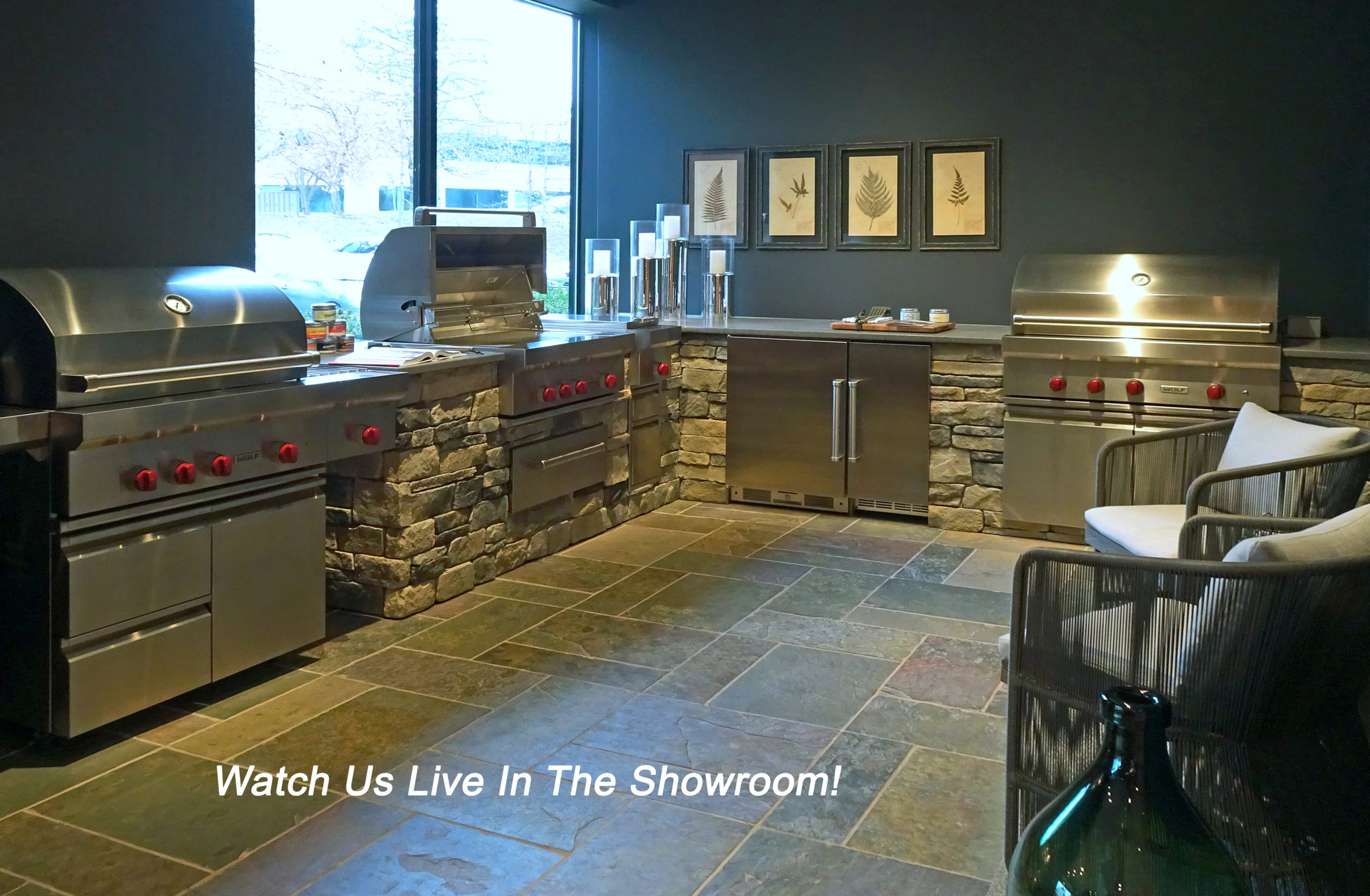 Create Your Outdoor Space And Extend Your Home's Living Area With These Ideas And Furnishing Picks   
Cooking:
Bring cooking outdoors  – Create a quality outdoor kitchen area as simple as a multifunctional modular grill or as extensive as a covered full kitchen set up for year-round use.  You want this to last!  So, always consult with a professional accredited designer and licensed contractor before purchasing and installing.  All materials, plumbing, ventilation, and electrical needs to be specifically made and installed for outdoor use.
Firepit:
Add a firepit – Warm up cool evenings around a cozy firepit. It can be built-in or movable.
Garden:
Plant a kitchen garden  – Fill sculptural containers and planters for easy access to herbs and vegetables right outside your door for cooking, fragrance, and pops of color.
Seating and Lounging:
Create gathering and relaxation areas – Maximize and organize your space by creating comfortable lounging and gathering zones with quality, high-performance, durable furnishings and materials that are made to withstand weather fluctuations – a modern sofa or sectional, occasional chairs, end tables, a coffee table, and lounges.
Lighting:
Dining:
Sign up to receive more free home design tips!